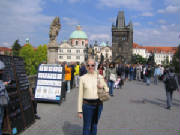 GTI Certified Translation Professional
Certified Translator English<>Czech


LET ME INTRODUCE MYSELF

My name is Katerina Lu.

I am a GTI Certified Translation Professional (CTP) English<>Czech

I am a native Czech speaker with a family and cultural background in the Czech Republic.
I have an excellent command over written and spoken language, both in English and Czech.
I have a perfect understanding of cultural, grammatical and phonetic obstacles for Americans in learning Czech and the ability to explain the problems and to help overcome the difficulties.
I moved to the USA in 1993.

I have 15+ years of experience tutoring Czech to both professionals and people needing Czech language for daily conversations, and coaching Czech pronunciation to singers.

I am a member of the International Association of Teachers of Czech Language.

I taught students of widely diversified backgrounds, different levels and with various needs.
I co-translated two plays by Václav Havel, the former Czech Republic president, and a world-renowned playwright. Some of the plays were performed by The Untitled Theater Company 61 in New York City.

I have made a word for word translation of Dvorák's opera Rusalka, performed in Toronto, Montreal and other cities in North America.

I helped opera conductors of Rusalka (namely Maestro Keenan, and Maestro Giampietro) with the production preparation, teaching them the pronunciation of the libretto.
I coached operatic singers in the pronunciation of Czech song lyrics and librettos.

I am a dynamic, result-oriented and outgoing person.
I am also a very patient teacher ;-)


MY APPROACH
I want to support you in achieving the personal goals that motivate you in learning Czech. Private tutoring offers unique advantages: I tailor my lessons to the needs of each student. To accomplish that, I provide 30 minutes of free evaluation session for new students. This will allow me to understand my students goals.
The method I use will be adapted to both your level and your personal objectives. You will enjoy a modern and dynamic way of Czech teaching. Besides textbooks, I use various pedagogic tools such as audio and Czech newspapers and movies. I also use games and exercises to enhance students understanding of grammar, vocabulary, and pronunciation.
My teaching philosophy is to emphasize my students ability to express themselves in a simple manner in a few lessons. I teach the necessary skills for them to feel comfortable communicating with people on a daily basis. In the meantime, they will continue learning more detailed knowledge of the basics and grammar of the Czech language.

Do not feel disadvantaged if you are not multi-lingual. With my guidance, you will be able to attain your goals and to speak Czech soon!